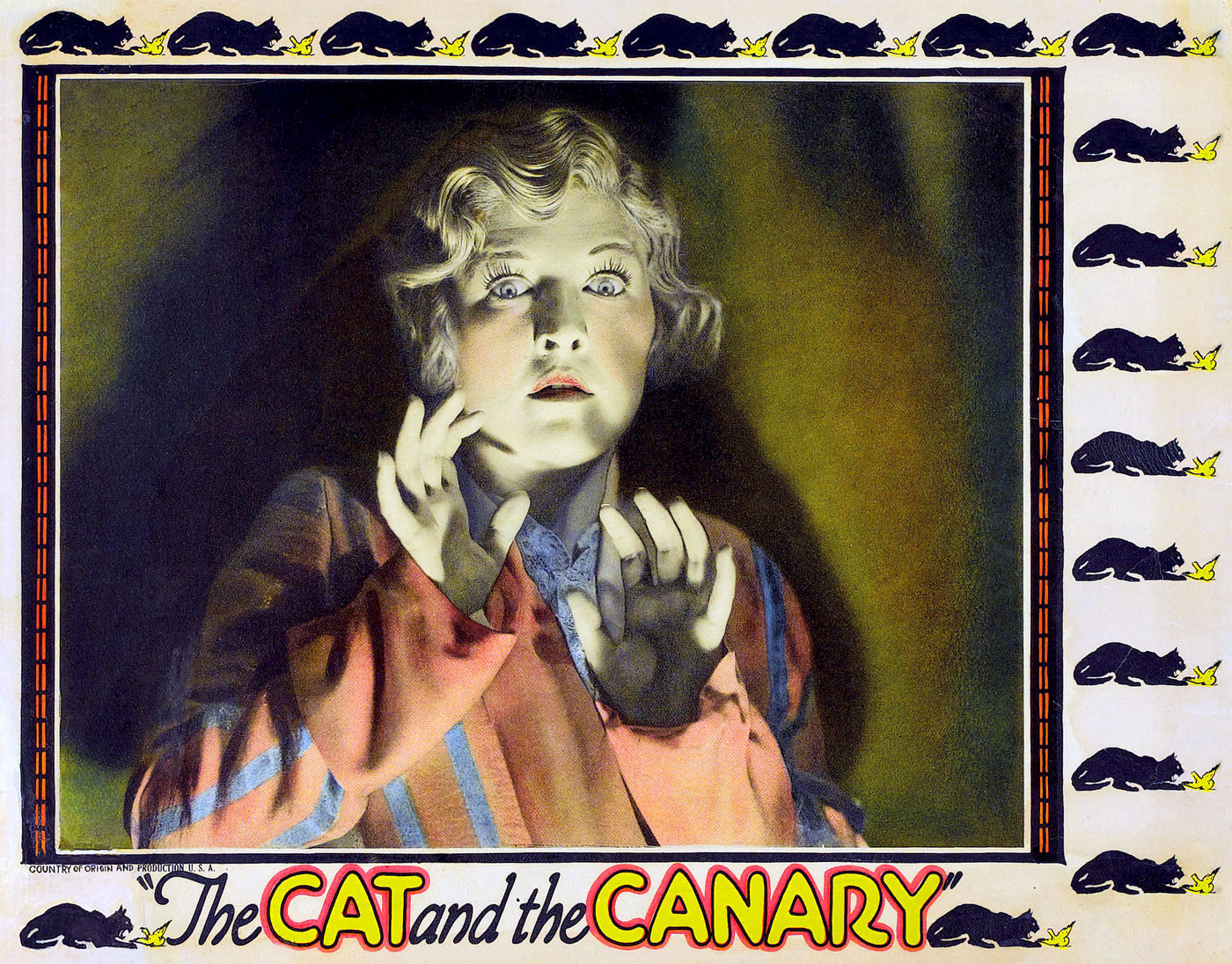 1927 Silent Film Horror Classic "The Cat and the Canary"
with Wurlitzer Pipe Organ Accompaniment by Ben Model
Before "Clue" and "Rocky Horror", There Was "The Cat and the Canary"
On Sunday, October 10, 2021 at 2:30pm, the Empire State Theatre & Musical Instrument Museum (Syracuse NY) will present a special screening of the classic silent horror-comedy film The Cat and The Canary (1927), with Ben Model performing his original score on the museum's historic 1925 Wurlitzer theatre pipe organ. This film, directed by Paul Leni, set the tone and style for Universal Pictures' horror films of the 1930s. This is the original creepy shadowy movie about a family gathered at a spooky old mansion for the reading of a millionaire's will. Forced to spend the night because of a storm, and terrorized by an escaped lunatic, family members disappear, clutching hands sneak out from sliding panels, and precious jewels are stolen. Renowned film accompanist Ben Model will help keep the audience on the edge of their seats with his original musical score performed on the mighty Wurlitzer.
The Empire State Theatre & Musical Instrument Museum is located in the Harriet May Mills Art & Home Center on the New York State Fairgrounds. The Wurlitzer organ was built in 1925 for the former RKO Keith's Theatre in downtown Syracuse, was saved and reinstalled permanently in the Empire Theatre at the State Fairgrounds as the centerpiece of the theatre and musical instrument museum.
Ben Model is a resident silent film accompanist at the Museum of Modern Art (MoMA, NYC) and at the Library of Congress Packard Preservation Campus Theatre (Culpeper VA), and his recorded scores have been heard on numerous home video releases by Kino Lorber, Undercrank Productions and on Turner Classic Movies (TCM). He is also the producer and co-host of the popular YouTube live-stream show The Silent Comedy Watch Party, which he launched in March 2020. Model's website is silentfilmmusic.com.
More details about the show are below, and are listed on the Syracuse Wurlitzer Facebook page. Read Ben Model's article about The Cat and the Canary here.
Info from the Syracuse Wurlitzer FaceBook page:
WHERE / WHEN:
Empire Theatre, NYS Fairgrounds, Syracuse
581 State Fair Blvd Syracuse, NY
Show Hours: Doors open at 2:00pm, concert starts at 2:30pm
Admission: Non-members – Adults $15.00, Children $2.00
General seating tickets are available at the door prior to the program

More information about the museum is available at the Syracuse Wurlitzer Facebook page or by calling (315) 451-6551 Tuesday-Friday 10:00am-6:00pm and Saturday 10:00am-4:00pm or (315) 687-3580 on Sunday.

Fresh popped theater popcorn and bottled water will be available.

IMPORTANT COVID-19 INFORMATION: New York State Department of Health recommends proof of vaccination be shown and further advises that masks are strongly recommended for all fully vaccinated individuals and mandatory for un-vaccinated and partially vaccinated individuals aged 2 and older. ESTMIM will adhere and enforce all COVID-19 safety recommendations and mandates as they are updated.