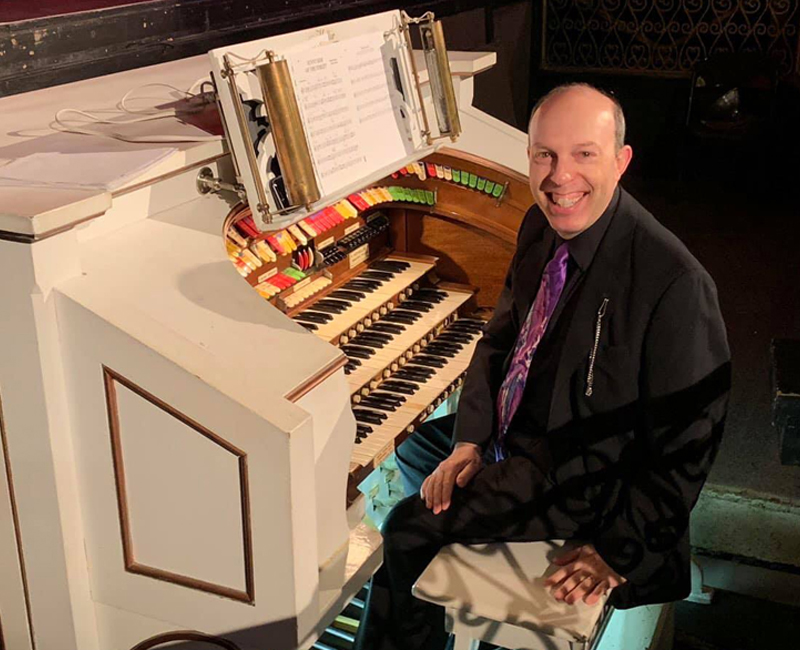 Ben Model, silent film accompanist-historian
I am one of the nation's leading silent film accompanists – I create and perform live musical accompaniments to silent movies on both piano and theatre organ. I work full-time (no foolin'!) presenting and accompanying silent films in a wide variety of venues around the USA and internationally, carrying on a tradition I learned from silent era film organist Lee Erwin (1919-2000).
Over the past four decades I have created and performed live musical scores for several hundred silent films. I am a resident film accompanist at the Museum of Modern Art (New York, NY) and at the Library of Congress' Packard Campus Theatre (Culpeper, VA). I perform at theaters, museums, festivals, universities and other venues around the USA and internationally.
My recorded silent film scores can be heard on numerous DVD and Blu-Ray releases, on TCM and on my YouTube channel. My boutique home video label Undercrank Productions has released 25+ DVDs and Blu-rays of rare/lost silent films, undiscovered gems all. Most of these releases were done as part of my co-branding arrangement with the Library of Congress, sourcing archival prints of the Library's preservations and restorations.
I accompany silents at classic film festivals around the U.S.A. and internationally, such as the TCM Classic Film Festival, the Kansas Silent Film Festival, Stumfilmdager (Silent Film Days) inTromsø Norway, and I perform at universities, museums, and historic theaters. I also serve as producer-accompanist for The Silent Clowns Film Series, now in its 25th season in NYC and holding its shows at the NYPL Library for the Performing Arts, at Lincoln Center. I've composed film scores for both orchestra and concert band for accompaniment to films by Chaplin, Keaton, Laurel & Hardy and more. These scores are performed around the U.S. every year by professional and school ensembles.
As a film programmer, I've co-curated film series for The Museum of Modern Art (MoMA), and I co-program a monthly silent film series at the Cinema Arts Centre, an art-house on Long Island. As the archivist of the Ernie Kovacs/Edie Adams collection, I've curated three DVD box sets of Ernie Kovacs television shows for Shout! Factory.
And, to top that off, I'm a Visiting Professor at Wesleyan University, and teaches a course on silent cinema for the university's Department of Film Studies. My teaching this course on the history and the storytelling language of silent cinema since 2015 has enabled me to crystallize my ideas about the medium and write a book about it, entitled The Silent Film Universe, which will be published in 2023.
I'll see you at the silents!
NOTE: please contact me if you need a formal bio + photos for press-media-blog-podcast or for a show you're presenting that I'm accompanying.
Video from Time Magazine
"Silent Scream: Playing for Nosferatu"