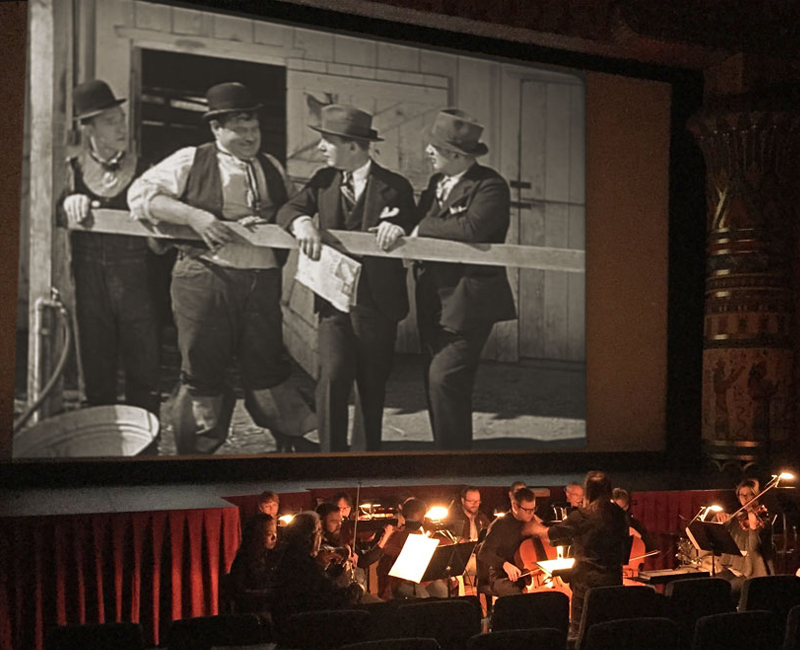 Silent Film scores for orchestra and wind ensemble
I have composed new silent film scores for both orchestra and concert band, and these are available for show licensing. They are suitable for performance by both adult professionals and a good high school ensemble. Score samples are available upon request in PDF form. Conductor scores are marked with visual cues and metronome markings for synch.
Rental package includes: performance license, conductor score and parts, rehearsal DVD with cues marked onscreen, show DVD with higher image quality and with cues not marked, B&W stills for promotional purposes. Email to inquire about rentals and fees.
available scores:
WRONG AGAIN (1929) starring Stan Laurel & Oliver Hardy — Stan & Ollie are stable-hands who discover a horse they take care of has been stolen and set out to return "Blue Boy" to his owner for the reward. What was really stolen was the Gainsborough painting "Blue Boy", but the boys don't find out until it's too late. Running time: 20 mins — orchestra score
DOG SHY (1926) starring Charley Chase — Charley Chase (a silent movie version of John Cleese) is terrified of dogs, and falls for a young lady whose parents want her to marry a nobleman, and winds up posing as the family's butler to get closer to her. Unfortunately, the nobleman turns up and Charley has to deal with both him and the family's dog. Running time: 22 mins — orchestra score
THE ADVENTURER (1917) starring Charlie Chaplin – Chaplin plays an escaped convict who comes to the rescue of a pretty socialite (Edna Purviance), who takes him in after saving him from a near-drowning. At a fancy party at her family home, Charlie's cover is blown by a guest who tells her father (a judge!) and calls the police. The cops arrive and give Charlie a hilarious and wild slapstick chase. Running time: 20 mins — orchestra and concert band score
THE IMMIGRANT (1917) starring Charlie Chaplin — Chaplin "comes across" to the USA in this classic, poignant tale of an immigrant surving poverty and finding love. Available for orchestra and concert band. Running time: 20 mins — orchestra and concert band score
ONE WEEK (1920) starring Buster Keaton — Buster Keaton gets married, and his wedding present is a build-it-yourself house. Buster and his bride build the house, unaware that his rival has switched the numbers on the boxes, resulting in one of the most surreal homes ever built. Running time: 20 mins — orchestra score
THE GOAT (1921) starring Buster Keaton — Buster is inadvertently photographed for a "Wanted" poster, and finds himself in all manners of pursuit while trying to win the hand of a woman whose dog he's saved. Running time: 20 mins — orchestra score
COPS (1922) starring Buster Keaton — Keaton sets out to prove to his girlfriend that he can become a successful businessman, buying a wagon of furniture and accidentally driving it into a parade, which leads to one of the greatest chases in silent comedy. Running time: 20 mins — orchestra and concert band score
Ko-Ko the Clown in THE FADE-AWAY (1925) — NEW SCORE! Premiered Feb 20, 2016 in a performance by the Butte Symphony in Montana. — Ko-Ko the Clown was one of the top cartoon stars of the silent era, and the series was made by the Fleischer Studios, best known for Betty Boop and Popeye. In this cartoon, Ko-Ko and his dog Fitz tangle with live action Max Fleischer, who has a bottle of "fade-away" powder that makes things disappear. Max send them to "Fade-Away Land", but they escape, only to take revenge on Max and anything else they can. Running time: 8 mins — orchestra score
Felix the Cat in PEDIGREEDY (1927) — Felix the Cat was the silent movie equivalent of Bugs Bunny or Spongebob Squarepants, and was a huge star during the silent era. More than 160 Felix cartoons were produced from 1919-1930. In "Pedigreedy", Felix fakes a pedigree to get into the swanky "500 Club", telling stories of encounters on Noah's Ark, with an Egyptian pharaoh and with Columbus. Running time: 7 mins — orchestra score; also available for chamber ensemble
GRANDMA'S BOY (1922) starring Harold Lloyd — Harold is a terribly timid young man who lives with his sweet old granny. Their rural town is terrorized by a bullying tramp, and Harold must face his fears and become the hero for the town and in the eyes of the girl he loves. He does this through a special charm his Grandmother gives him…or does he? Running time: 65 mins (feature-length) — orchestra score
My scores have been performed by:
Boise Philharmonic (ID)
Northern Duchess County Orchestra (NY)
SEMYO (Southeastern Minnesota Youth Orchestra) (MN)
New York Ragtime Orchestra (NY)
Butte Symphony (MT)
Jonathan Law High School Band (CT)
Otterbein Univ. Wind Ensemble (OH)
Harding University Wind Ensemble (AK)
Hampton Municipal Band (IA)
West Salem High School Band (WI)
Menominee Falls High School (WI)
Vivace Junior Youth Orchestra (TX)
Anderson High School (OH)
Arbor View High School (NV)
Beloit Janesville Symphony (WI)
Borreby Youth Orchestra (Denmark)
Broward Symphonic Orchestra (FL)
Symphony in the Valley (CO)
Santa Monica High School (CA)
Buffalo Community Orchestra (MN)
Sturgeon Composite High School (Canada)
Southwest MN Christian High School (MN)
Putnam City North High School (OK)
Girona School of Music Concert Band (Spain)
Green Bay Civic Symphony (WI)
Hot Springs School Band (SD)
Huronia Symphony Orchestra (Canada)
Vanderbilt University Wind Ensemble (TN)
Kankakee Valley Symphony (IL)
Radford University Chamber Orchestra (VA)
Ralston Valley High School (CO)
Salt Spring Community Band (Canada)
Tidewater Winds (VA)
Treasure Valley Community College Orchestra (OR)
Windsor Symphony Orchestra (Canada)
William & Mary Wind Ensemble (VA)
Hong Kong Wind Ensemble (Hong Kong)
Saskatchewan Symphony (Canada)