Ernie Kovacs show ensemble cast members turn up out of seemingly nowhere in the TV-ography of the shows. Ernie's penchant for casting or hiring people through unusual channels and based on a personal reaction runs throughout his career. The trajectory of singer Peter Hanley is harder than most to identify.
Peter Hanley was hired as the male singer for the Kovacs show that aired on the Dumont network from April 1954 to April 1955. It was a comedy variety plus interviews show that aired live at 11pm five nights a week, although its start time changed a couple times. In its final months Ernie changed the show name to "The Ernie Kovacs Rehearsal". It was that laid-back a show.
Where did Ernie (or Edie) find Peter Hanley? He wasn't one of Kovacs' pals from his days in Trenton or Philly, the way musicians Tony DiSimone or Eddie Hatrak or all-around crew/performer Andy McKay were. Ensemble player on Ernie's 1956 summer replacement show Henry Lascoe was a Broadway character actor who had played Mr. Appopoulos, the landlord in Wonderful Town with Edie.
I haven't found much of anything online about Hanley's career outside of his work on the Kovacs show. Although this ad for a stint at the Copacabana in 1950 may be a clue of some sort.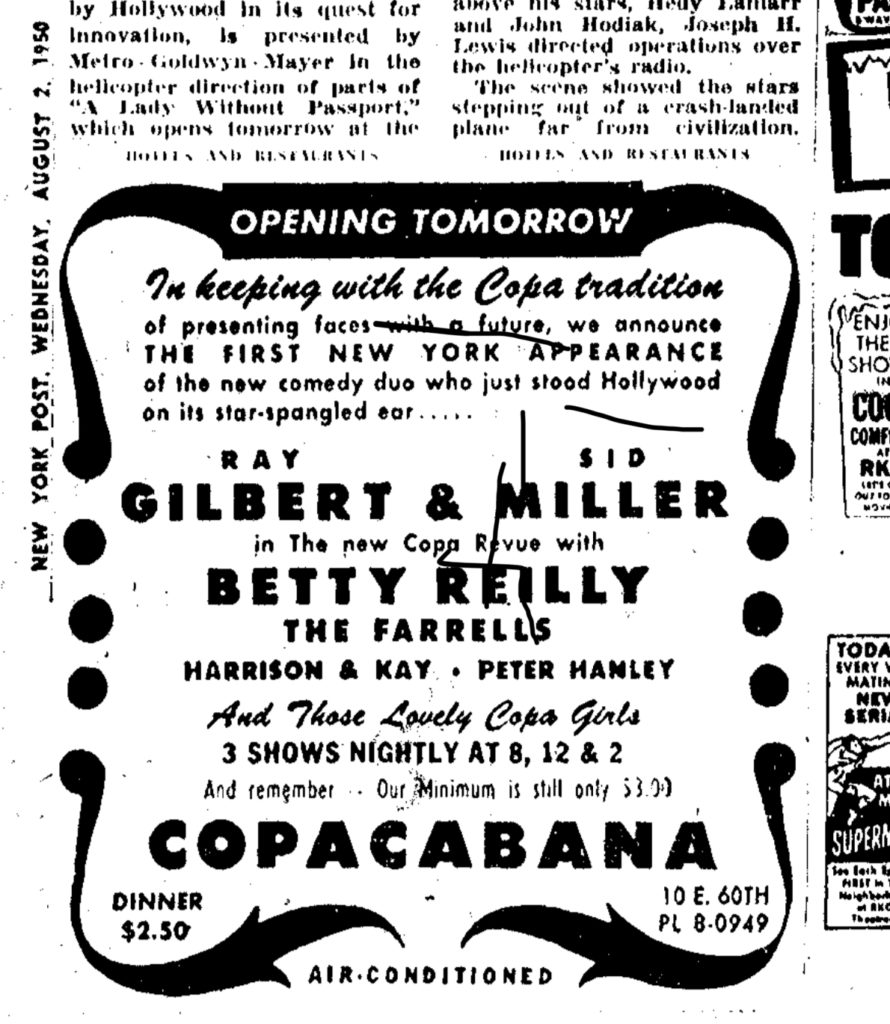 Hanley was a core ensemble member on the Kovacs shows from 1954 through 1956. He is the person responsible for bringing in a record of the Robert Maxwell novelty record "Solfeggio", although another account lists a show crew member bringing it in. He's a fixture on the 1955-56 NBC morning show, performing in sketches as well as singing a musical number every day. There is a period of time during that show when folk singer Dylan Todd replaces Hanley. Haven't figured out why. He's a sketch performer with no musical solos on the 1956 summer replacement show.
And then he's gone for a few years. Actually, the 1956 shows were the last time he was on any of the Kovacs programs, seemingly replaced — type-wise — by Joe Mikolas on the ABC programs. Until a few years ago, I'd thought that's where the trail went cold.
It picked up again in 1963, albeit briefly, and went cold again shortly thereafter. When working on the "Here's Edie" DVD box set of the entire two season's of Edie's shows, I was pleasantly surprised to see Hanley turn up. He's on the episode in season two with guests Terry-Thomas and Spike Jones. He does a little ensemble stuff, and participates in a series of blackout-gags that are reminiscing of the Kovacs oscilloscope montages, without the oscilloscope or Kurt Weill music.
For someone who appears to have had a career as a performer and a singer for about two decades, it's surprising how little turns up in Google searches. Perhaps you know more about some pieces of his life or career. It seems a shame to know so little about someone who was a key performer in the Ernie Kovacs canon.