One of the things that struck me about the "Slapstick Divas" program of silent comedies that I've presented with Steve Massa over past year or so was the type of roles the funny ladies in them had. It reminded me of a thought I'd had about Mary Pickford's child roles in her features.
The slapstick comedies Steve and I programmed found their leading ladies more often than not in roles usually performed by men, and that was a source of the humor in many of these. Gale Henry as the town fire chief. Fay Tincher as a he-man cowgirl whose father sends her to a finishing school to girlie her up. In A Thrilling Romance, Wanda Wiley is an aspiring romance novelist, but she is also clad in what I'd call a roaring-'twenties edition of Annie Hall outfit.
What struck me was the fact that a certain amount of the humor was the fact the lead comedian, or comedienne, was portraying a role usually played by a man.
While this may not have been intentional, Mary Pickford's playing a child in several of her films gave her license, or permission, to behave in a manner that was, well, less "ladylike", for the times. She could stamp her feet, protest things she was being told to do, jump on the bed, make a mess, express feelings a bit more than usual, etc. Even as the privileged Little Lord Fauntleroy she had more license to be a little brazen, even if measuredly so. Her "tomboy" roles took this even farther.
There are exceptions to this, to be sure. Louise Fazenda would get involved in some of the slapstick and messes in the Sennett comedies she was in, but the men in the film were usually the driving force behind the plot. Even in the Fatty and Mabel shorts, as much as Mabel does get to do in the films, they are seem more like "Fatty, and also Mabel".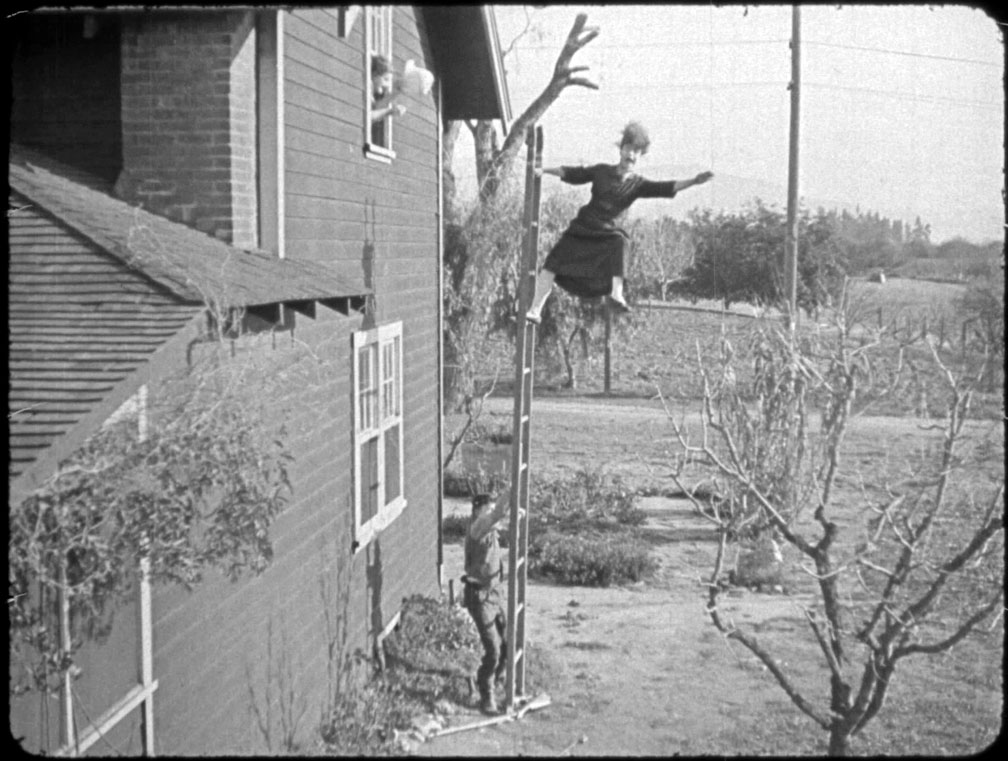 This is what was so refreshing and unusual about the Alice Howell comedies. The films really are about her and her character's trying to make her way in the world. She's not stuck in a cut-away insert watching while the male comedians duke it out or make a mess. Alice is playing herself, without a certain amount of the "joke" of the film being that she is stepping out of traditional gender roles. And she's doing the same level of knockabout and slapstick as her male counterparts in silent comedy were doing in their films.
In Alice Howell's starring comedies, starting in 1916, she's the main character, and is the one driving the plot. We've all never really noticed this — in comparison to the other funny ladies of silent comedy — because all that's really circulated is Cinderella Cinders, one of her 1920 Reelcraft comedies, and a couple of the weaker entries in the series she did for Universal in 1924-25 when she was teamed with Neely Edwards and Bert Roach.
I think this facet of her films is one of my favorites and I hope you'll enjoy this as well as you see more of Alice's films.
The Alice Howell Collection 2-disc DVD set is available for pre-order on Amazon, DeepDiscount, Shop TCM et al, and will be available on March 5, 2019.