Stretching to Two Reel Length was no Stretch For Marcel Perez
What has always struck me as remarkable about Buster Keaton (well, one of several things) is his maturity as a filmmaker at the ripe old age of 25. His first solo release, One Week (1920), looks nothing like any of the 14 two-reel Arbuckle comedies he appeared in and helped make from 1917-1920, and is a big leap cinematically from anything he'd done prior. Even The High Sign, made first then shelved because Keaton thought he had a better picture in One Week (!!) does not resemble any of the Arbuckle Comiques.
Where did this come from?
Keaton had spent his childhood and formative years performing in a 10-12-minute vaudeville act multiple times a year, week in and week out, year after year. The Comique shorts were great, and their basic structure was short on story, and long on gag sequences strung together. One Week is not a stylistic continuation of The Garage, no matter how much one credits Keaton for input on the Comique shorts.
Marcel Perez had spent 10 years making single-concept split-reel comedies in France, and another 5 years making the same for Ambrosio in Italy. Upon beginning his American film career, he made a half dozen Keystone-emulating one-reelers for Vim as the character "Bungles". The next year finds Perez at Eagle reinventing his European "Robinet" character as "Tweedledum", and where basically half the films he makes there — films he stars in and directs — are two-reelers. The two-reelers are not a move up from his testing the waters in single-reel form. The pattern of his making one- and two-reelers checkerboards from the get-go.
His second-released film for Eagle is the rather mind-blowing A Busy Night, seen on the first Marcel Perez Collection DVD. If the release dates are to be trusted as a way to determine production chronology, this is his first film of that length. Ever. It is much more complex than his European split-reelers and presumably the Bungles shorts (they're all lost at the moment). His third film for Eagle, A Scrambled Honeymoon is also that length and while its 2nd reel is currently unaccounted-for, these two films as well as Lend Me Your Wife — release number 6 — do not feel like films that are padded out to 2 reels. In the way that Chaplin later found a balance between slapstick and pathos in order to successfully move into features, Perez seems to have an innate sense of balancing gag sequences and story to sustain two reels of film storytelling and gags.
Most two-reel comedies from the mid-teens are a series of gag sequences, with plot point interruptions, in varying degrees. A gag sequence with soup at a restaurant, a gag sequence in the kitchen, a gag sequence with the lead comic flirting with a woman in the cafe, then a title "The disgruntled staff plot revenge" and cut to a shot of faux bolsheviks with a fake bomb. Some gags with the restaurant workers, and then we're back to the comedy sequences.
On the other hand, to me anyway, the Perez-two reelers feel like they have a little more of the overall story's forward motion moving them ahead throughout. A more even balance of plot and comedy gags. At least, I think so.
Lend Me Your Wife, which survives in complete form (although lacking all its intertitles), is a fine example of this. And again, I am amazed at the same One Week question. For Perez, after making so many, many much shorter, single-concept comedies, there is this innate ability already present to create longer and more sophisticated comedy shorts, and I have to wonder —
Where did this come from?
As I go through and reflect on each of the Perez shorts on volume 2, taking into account the films included on the first DVD, I am aware of something that sets them apart from other silent comedy shorts. There is something about Perez's comedies that does not feel like or resemble those of any of the other silent film comedians working in the short-subject format.  I'm still trying to figure out what that is, and I welcome readers' impressions or opinions about this, and perhaps we can all collectively figure out what this Marcel Perez "je ne sais quoi" is.
---
Lend Me Your Wife (1916) is on the new Marcel Perez Collection: Volume 2 DVD, to be released by Undercrank Productions on February 27, 2018 and available on Amazon (and merch tables at my shows). The Library of Congress Film & Video lab scanned a 35mm preservation negative from the collection of the Museum of Modern Art. MoMA's preservation is from a Czech nitrate print with a Czech main (flash) title and no intertitles. I created new main and credit titles, using those from A Busy Night and A Bathtub Elopement (both on the first DVD) as templates. The film was rendered at 20 fps. Steve Massa and I decided not to try to guess at intertitle text, since the film holds up without them, but felt it was worth creating an insert shot of the letter Tweedledum receives informing him about his inheritance.
---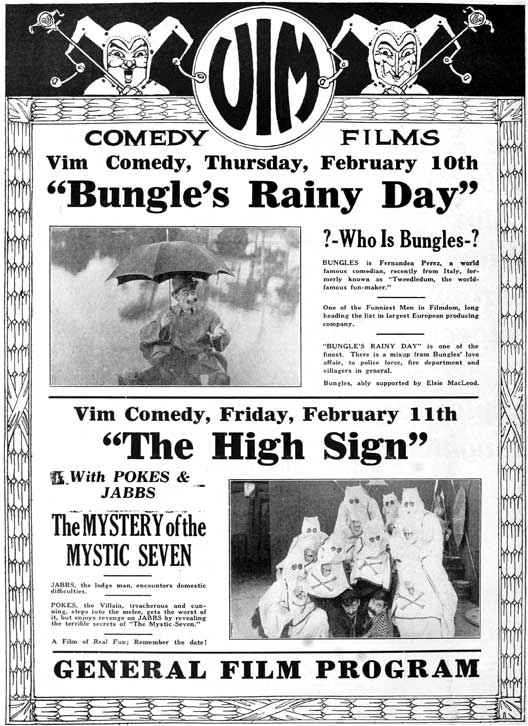 (image sourced from the Media History Digital Library)