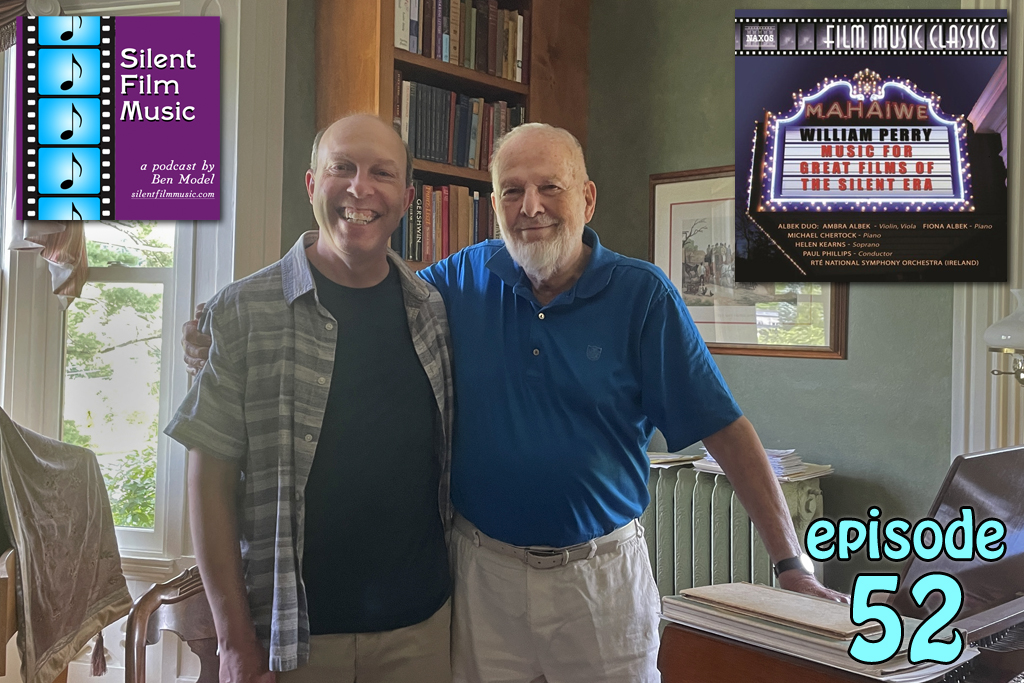 Episode 52 Show Notes: William Perry interview (part 2)
Interview with William Perry, composer, pianist, orchestrator, and silent film accompanist.
---
From William Perry's score for The Gold Rush (transition from piano to orchestra)
Ben's introduction
WP: In the early 1970s, the curators at MoMA were discovering silent film, its history and its language
Pre-screening films and preparing to accompany them
Awareness of the audience and their reactions, keeping ahead of them
"Tea with Lillian Gish"
Excerpt from "Silent Film Heroines: Lillian Gish – Orphans of the Storm"
Expanding one's musical vocabulary
National or ethnic idioms, dance, singing on screen
D.W. Griffith, how his editing rhythm can conflict with the accompaniment
Favorite Films The General accompanied by William Perry
Excerpt from William Perry's score for The Beloved Rogue starring John Barrymore
Perry leaves MoMA to develop in other directions, especially orchestral versions of his piano scores
Erno Rapee and the Radio City Music Hall Orchestra played Mahler on the radio
Fanfares on piano vs. real brass fanfares!
Perry began thinking orchestrally
Producing Anyone For Tennyson 1976-1978 on public television
Producing and scoring 1980 – 1986 Mark Twain features for Great Performances
Life on the Missisippi and how to make a TV director nervous
Excerpt from Life On The Missisippi: Pilot on the Missisippi
An excerpt "Swordplay" based on scores for The Three Musketeers and The Iron Mask, as heard on the CD "Toujours Provence"
Working with orchestrators on film scores and other works
"That's What Friends are For" and "Evil Weasels" from The Wind In The Willows (1985), music by William Perry, lyrics co-written by William Perry
Keeping the medium of silent film accompaniment alive todayThe duties, challenges and tricks of a film accompanist
Rachmaninoff's piano
Ben's outro
---
William Perry's company, Trobriand Music with links to the recordings heard in this podcast.