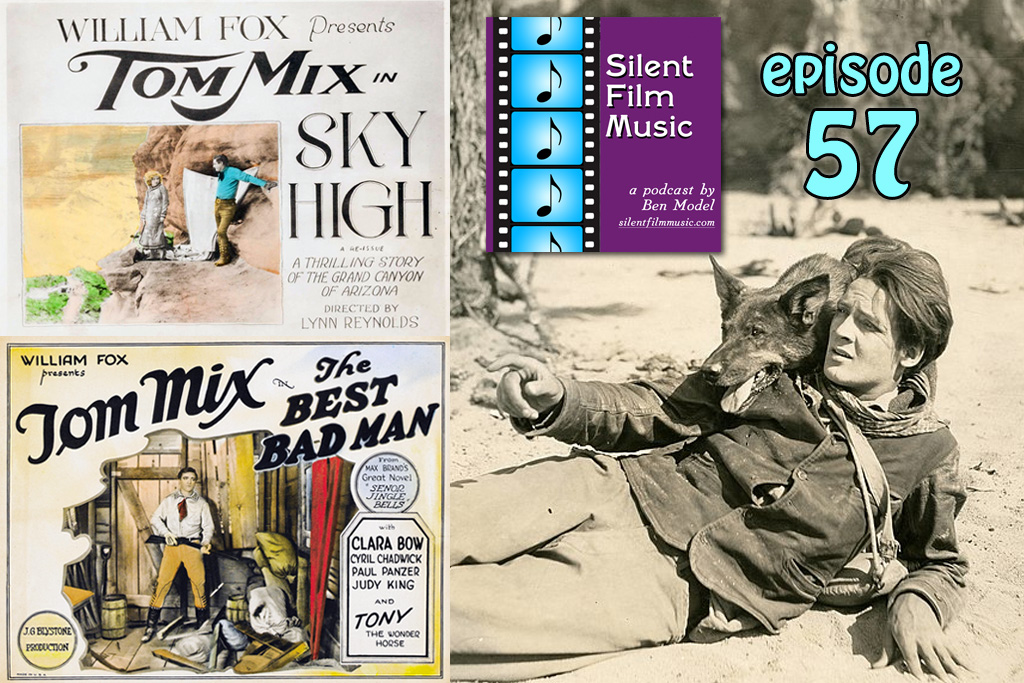 Episode 57 Show Notes: Recording silent film scores for Tom Mix and Rin Tin Tin
Recording scores for streaming and home video is different from a live performance
Kerr and Ben discuss the work flow and meeting multiple deadlines
Ben watches the entire film, taking extensive story notes, noting references from outside the film
He then composes into a digital recording device, using the recorder in place of a pen
Ben records in pieces, then reviews and occasionally "disagrees" with his prior ideas and re-records a section
The sound in home exhibition is larger and more present than in a theatrical performance
Ben has learned to have patience with himself in the recording process
Piano or organ? Depends on the film, its period, and audience expectations
(Piano recordings are made via high-quality Ivory samples,which registers velocity rather than mere amplitude, replicating the authentic sound of a live concert piano)
Home recording avoids the pressure of studio costs, plus the presence of others listening to the process
Discussion of getting started and learning when to stop
Themes may be created before recording starts, but just as often it happens in the course of recording
Recording accompaniments for Tom Mix films
Streamed on MOMA's Virtual Cinema, including The Best Bad Man
Making a transition of setting, and incorporating a title reference to a nickname of "Jinglebells"
Then, making a transition to "Came the dusk" and a graveyard
The mystery of people of color being featured in "scare comedy" reaching a peak in 1924-25.
"Pizzicato misterioso" from 1916
Tom Mix in Sky High (1922)
Creating a title theme for the Tom Mix 1922 film "Sky High," to be seen on TCM and released by Undercrank later this year
Piano or organ? Ben decided to use the piano in tribute to Bill Perry's piano scores for "The Silent Years"
Discussion of how few Mix films survive, and how few silent Westerns get programmed or released in home video, considering their historic importance
Ben pursuing the "Why Didn't I Know About This?" factor in silent film
Includes Back Pay with Seena Owen, The Valley of Silent Men starring Lew Cody and a video essay A Turning Point: Borzage at Cosmopolitan by Andrew Earle Simpson and Crystal Kui (2 disc set on Blu-ray and DVD)
Simpson found the surviving elements and restored their original order, and their tinting schemes
Marlene Weisman provided another brilliant cover design
The "fact track" substituting synchronized subtitles of interesting background information instead of a commentary track
Celebrating Warner Bros's 100th Anniversary and its first star – Rin Tin Tin
Ben will be playing live accompaniment for The Clash of the Wolves starring Rin Tin Tin at the 2023 TCM Classic Film Festival in April.
Ben was contacted by Kino Lorber to record the score for a box set of silent films starring dogs, which will include a new edition of the film, from a new 4K scan of 35mm nitrate preserved by the Library of Congress
To Ben's surprise, in the middle of the film, it becomes a light comedy; the music needs to cue the audience about the change in style and mood
After Rinty is injured, he must re-learn to walk in special boots
Ben's idea for "walking music" was inspired by Morton Gould's Pavanne.
Sign up for Ben's regular email here to keep up with all his activities.
---