Ernie Kovacs' "Albert Gridley" sketch is one of the better-known ones. Its simple premise, a talk-show guest who can't remember details of the very story he's being interviewed for, is coupled with Kovacs' unique, dryly sarcastic prompting. It's deeply funny, and quotable, since it's just two people talking for 3-4 minutes. Like the Monty Python "Argument" sketch.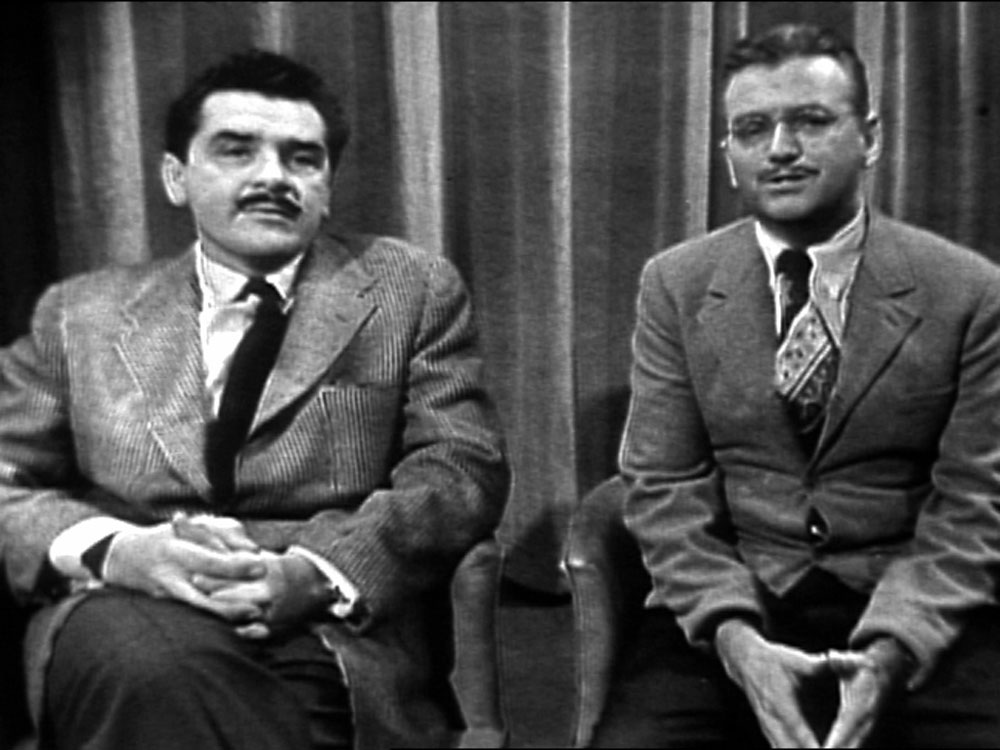 What I found interesting about the sketch is that, unlike the version Ernie taped for one of his specials for ABC in 1961 with Joe Mikolas as Mr. Gridley, the earlier iteration of the sketch that survives has a set-up that shows what Kovacs was actually driving at. It's yet another instance of Kovacs sending up a convention of television way earlier in the game than you'd expect.
The December 19, 1955 (live) episode of The Ernie Kovacs Show – a half-hour comedy variety program that aired late morning weekdays on NBC – is one of my favorites of that run. Not just because this sketch is on it, though. It's Ernie's 2nd week on NBC, and the show is in some aspects a train wreck. A train wreck that Kovacs lets the audience in on, as part of his meta comedy.
In the middle of the Kapusta Kid in Outer Space puppet show sketch one of the characters (done by Kovacs) turns to the camera and tells the teleprompter operator to slow down. Later in the sketch Kovacs himself pops up to complain about something. At the end of the episode during the sign-off, Ernie says " That's it…I've had it…!", takes Edie Adams' arm and walks out of the studio with her.
But I digress.
The week before Christmas 1955, it's singer Matt Dennis playing Albert Gridley on a segment called "Welcome Transients" (a spoof of a show from the time called "Welcome Travelers"). The sketch is pretty much identical to what Kovacs and Mikolas do in 1961. But the 1955 edition is preceded by Ernie's explaining to us that very often on interview programs the guest has been interviewed ahead of time, often to the point that the host knows the entire story he's asking the guest about.
And so, the Albert Gridley sketch is really meant to be a satire on the pre-interviewing of guests on a television show. We're all eminently aware of this, and of the formula, from watching years and years of talk shows. "So, do you have any pets?" is blatantly a prompt for the guest to tell the story the host clearly already knows about their new puppy, or "Do you ever take the L.A. Freeway?" is a deliberate set-up for a piece of stand-up material.
But Ernie Kovacs was sending up this trope of television chat in 1955. And who knows if he'd already done this bit on his shows for DuMont in 1954-55?