Thanks to a number of comments here and on FB in response to yesterday's post, I now am a little further down the Jack Newlon rabbit-hole. For one thing, it turns out Oriental Blues was written much earlier than Kovacs' first TV show, and also there's a connection to Tony DeSimone.
It's funny how you can search extensively for something and turn up one set of results, and then the next day do the same keyword search and find other things you didn't the first time. Or maybe that's how Google's algorithm currently functions.
For instance, this YouTube video turned up, a slightly stiff MIDI-fied rendition of the sheet music edition originally published in 1933, with Newlon on the cover.
Also interesting — on the cover of the sheet music is "Jack Newlon Publishing, Keswick Theatre Building, Glenside PA".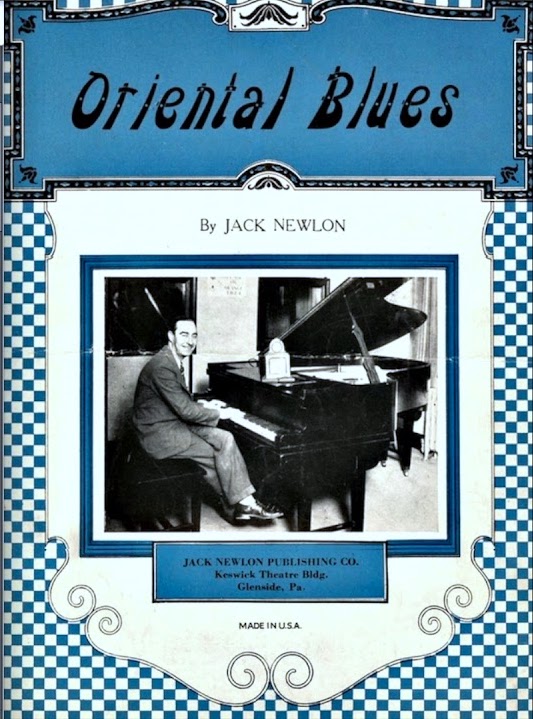 Keswick rings a bell. About 15 years ago I did a few shows at the Sedgwick movie house near Philadelphia, and learned that its Möller theatre pipe organ was now in the Keswick Theater in Glenside PA. The Keswick is still operating, as a concert venue. See for yourself. I don't know how often the organ gets used.
A few items turned up from books and liner notes by ragtime pianist and historian David A. Jasen. Liner notes for a Folkways LP that Jasen wrote that Oriental Blues was self-published by Newlon on May 25, 1933. It also said that he was from Glenside PA, and that "he was an organist at a local movie house and taught the piano." Jasen mentions that the recording Kovacs used was by none other than "Newlon's pupil, Philadelphia television studio musician, Tony DeSimone." Jasen's book "A Century American of Popular Music" has an entry for the tune that says it was introduced in vaudeville in 1933 by the composer.
Well, this explains more of the trajectory and geographical history of Oriental Blues and DeSimone's familiarity with an incredibly obscure piece of very late ragtime.
The other thing that turned up today that didn't yesterday, is this Top Tunes 78: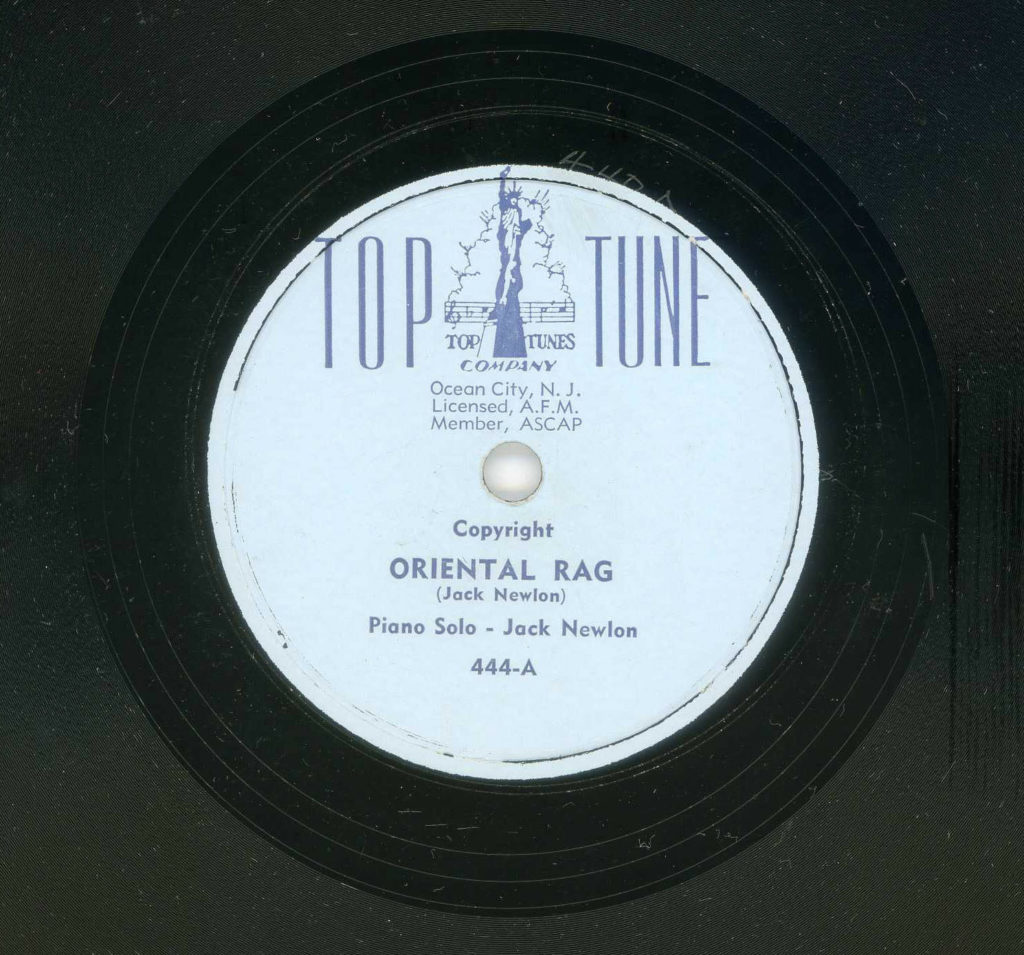 Same label as the DiSimone recording.
The matrix number for the Newlon record is 444-A, and the number for the DiSimone is 433-A. Hmm.
The first instance of Ernie using the recording is on his 15-minute afternoon show Time for Ernie (May-June 1951, WPTZ) although that is the earliest surviving kinescope of a Kovacs program. Could the record have existed earlier? Was DeSimone playing this at the studio or to fill airtime and Ernie heard it, and glommed on to it, and then a record was made?
At one point in the surviving kinescope of Time For Ernie Tony and the trio perform the song in what is a blatant Kovacsian lip-synch of the record — Ernie gleefully does a do-si-do with Tony while he's supposedly playing the piano, and the drummer is seen using a wrench to play his cymbal.