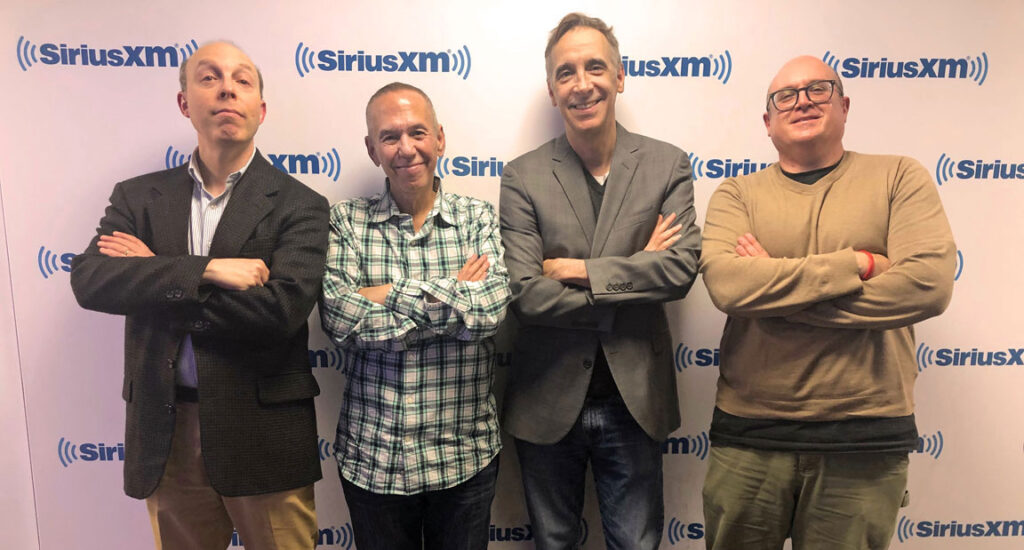 I often bring rugelach from Zabars as a professional gift. People really like it, and Zabars is 8 blocks away from our building. When I tossed bags of the stuff to Frank Santopadre and Gilbert Gottfried while unpacking my keyboard gear, Gilbert exclaimed "Ooh! You're our new favorite guest!" Which I kind of guessed might happen. But the real treat came next.
"There's a joke with rugelach in it. Do you know it?"
"No," I said.
Gilbert dove in.
(I'm going to be paraphrasing a little because this happened (exactly) a year ago, on December 9, 2019.)
"An old Jewish man is on his death-bed, and his grandson is visiting him. The grandson asks, 'Grandpa, is there anything I can get you?' and the old man says, "Yes — I want you should go downstairs to the kitchen, and get me a nice piece [of] rugelach from Grandma, so on my last day on earth I can taste some delicious rugelach.' The grandson goes downstairs and comes back five minutes later, with nothing. The old man says, 'What…what happened to the rugelach?', and the grandson says 'Grandma says she's saving it for the shiva."
And that was my introduction to Gilbert Gottfried.
Josh Mills and I were at Sirius XM's studios in mid-town Manhattan to tape an episode of Gilbert Gottfried's Amazing Colossal Podcast/Show. Josh — Edie Adams' son — and I had spent pieces of 2019 doing events with Josh commemorating the Ernie Kovacs centennial, which was the occasion for our being guests on GGACP. (I am the archivist for the Ernie Kovacs and Edie Adams television collections.) Our episode would post the following month, just making it inside the centennial year.
Josh and I were both huge fans of the weekly podcast, and noticed that Ernie Kovacs' name got mentioned by Gilbert or co-host Frank Santopadre maybe once a month. So they knew who Kovacs was and how important he was. And so, Josh and Frank connected at some point and we got booked on the show.
Five days prior to the podcast taping, when Josh and I were in Texas for the Dallas Video Festival's annual Ernie Kovacs Award presentation (John Cleese was the recipient that year), I got a call from Frank. He wanted to know – could I bring in a keyboard? Sure, I could. They weren't sure how we'd wind up using it, but he and Gilbert were intrigued by the fact that I was a silent film accompanist, and thought there might be an opportunity to maybe play something as an example.
It was pouring the evening we were to do the podcast, and I was a little late (NYC cabs in the rain in midtown!). Dara Gottfried (Gilbert's wife and the show's producer) met me in the lobby and led me to recording booth, and I quickly shed my coat, said quick hellos to Josh and Frank and Gilbert and put my keyboard on a counter. I opened my backpack to hastily grab what I needed — cables and audio components, and…the rugelach. Which brings us to the joke at the top of this post.
The Ernie Kovacs Centennial episode of the podcast posted on January 13, 2020. Less than 2 months later, the pandemic shutdown began. Being part of that GGACP episode is far and away one of the highlights of 2020 for me. As you'll hear, the four of us had a great time talking about Ernie Kovacs – and some other things – and Mr. Santopadre hardly needed to refer to his spread of blue cards full of research. We had a blast. And I can tell you that the silent movie segments between Gilbert and me were 100% unpremeditated and happened on the spot.
The episode is linked here, and is also available on all sorts of podcast platforms. Thank you Josh, thank you Dara, thank you Frank and thank you, Gilbert.