The Nation's First Exposure to Ernie Kovacs Was in a Summer Replacement In 1951
After hosting a daily 7-9am wake-up show as well as a number of other programs — cooking, fashion, quiz — for local NBC affiliate WPTZ, Ernie Kovacs got the chance at a network show. He'd been on the air a few hours a day, every day, for nearly a year. He had something of a fan base among people in the Philadelphia area and anyone whose rabbit-ears antennae picked him up.
The popular show Kukla, Fran and Ollie was going on summer hiatus. The network rolled the dice on the popular zany emanating from the city of brotherly love, and offered Ernie Kovacs the KF&O slot for July and August of 1951.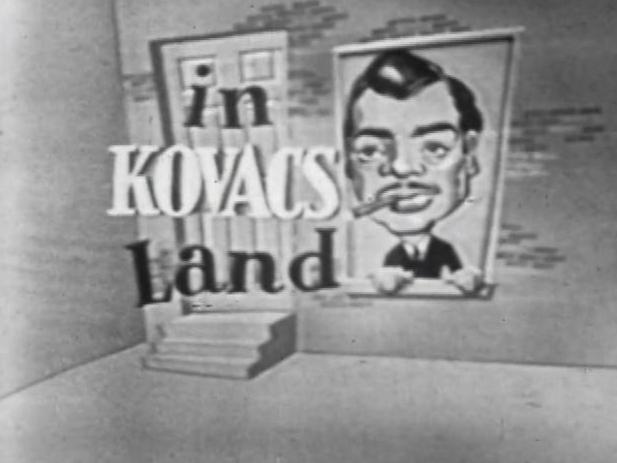 While Kuklapolitan fans may have wondered what this guy Kovacs they'd never heard of was going to do, I'm sure regular viewers of WPTZ may have wondered the same thing. That 7pm half-hour program had its loyal viewers and its regular format. Kukla, Fran and Ollie was a show hosted by Fran Allison whose ensemble performers were puppets. It was a show that appealed to kids, but had adult followers as well, who got the jokes or pieces of the storylines that went over kids' heads.
As rare as early television programs are, there are nine episodes of "Ernie In Kovacsland" that survive. (Thank you, Edie Adams.) The Ediad collection has kinescopes of the show's first week and a half, and its two final episodes. In preparing for the first "Ernie Kovacs Collection" DVD box set, I was able to view about half of these. All nine have now been digitized by the Library of Congress.
What people who tuned in got was the Ernie Kovacs show. There were a few touches, things that might appeal to a younger audience, but the show bears a very strong resemblance to his morning comedy-variety shows he did for CBS (1952-54) and for NBC (1955-56). There were spoofs of cooking shows and of TV commercials, comedy bits, and musical numbers by the Tony DiSimone Trio. For Ernie's first national show, the show's producer at WPTZ even went to the trouble of hiring a "girl singer" to do a number on every show.
The shows have a very loose and informal feel to them, and the comedy bits seem a tad under-rehearsed. Who had time to rehearse? Kovacs was on the air every morning from 7:00-9:00 while Kovacsland was happening. Edith Adams, in her first real television gig, does her best with the popular songs, and with keeping up with Ernie. She calls him Mr. Kovacs the first week, but it's "Ernie" in the shows on August 22 and 23.
Aside from a recurring storyline about a small turtle named Beauregard and the planting of some seeds in his garden and following their growth every day, the show does not appear to be attempting to replace Kukla, Fran and Ollie in the kind of show it is. Ernie did with the time slot what he wanted to — keeping it Kovacs — as he would do repeatedly and consistently over the ensuing decade of shows around the dial.
---
You can watch the August 23, 1951 episode on the Shout Factory website here.