Happy Birthday to Victor Herbert, Composer of "Babes In Toyland", "Ah, Sweet Mystery of Life" and the elusive "Marion Davies March"
Victor Herbert's March of the Toys wafted over my WFMT app this morning, in honor of the composer's birthday, and I immediately thought of Stan Laurel & Oliver Hardy – and then Marion Davies.  Stan and Ollie, obviously, because of their Babes In Toyland film that runs on TV every December. I was also reminded of my hunt for The Marion Davies March during 2016 when I was preparing my score for When Knighthood Was In Flower.
William Randolph Hearst had commissioned both the march and the When Knighthood Was In Flower waltz of Victor Herbert for the premiere showings and road-show edition of the film for its release in September 1922. I don't usually use the themes that were published in conjunction with a silent film, as they were mostly published as "inspired by the film" and designed for sheet music sales. Also, most of the time, those songs don't fit the film (and some of them aren't that good either). Occasionally, one has no choice, practically, like with "Seventh Heaven", where audiences expect to hear "Diane" because they know it, but those are exceptions.
I'd read a trade article from 1922 announcing that the two Hearst-commissioned Victor Herbert pieces were to be incorporated into the film's score being composed by Wm. F. Peters, but that score is currently AWOL, so there's no way to confirm this. It would have meant the tunes were composed before Peters finished his score, which I would imagine – if it's anything like his score for Way Down East – was composed and compiled.
However, I thought I'd look in to these two Herbert pieces, just in case they fit. Well, the waltz was an easy Google to find. The sheet music is relatively easy to find for download or on eBay, and there are a couple recordings of the song on YouTube. But there was no sign of "The Marion Davies March", in spite of evidence that it had been published at the same time. None.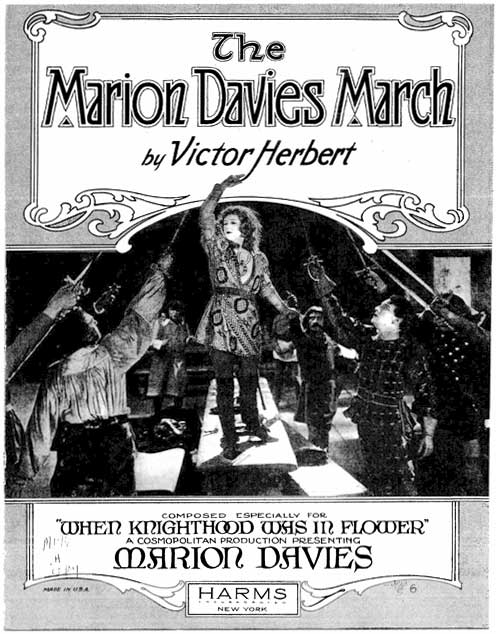 Eventually I wound up connecting with the Victor Herbert Renaissance Project and Alyce Mott, who graciously connected me with the collection of Herbert sheet music at the Library of Congress, and I was able to purchase a scan of the march. Surprisingly, the waltz's melody really does work as a love theme for the film, and I used it a few times in my score. The march fit quite well for one scene – there is a spot in the middle of the film where Mary of Tudor, now Queen of France, is introduced to the public in a long and very expensive-looking processional sequence.
The other bonus of finding the sheet music was the cover image. When graphic designer Marlene Weisman and I were working on the Blu-ray box art, we were initially stuck for photos, as many of the images of Marion in the trades promoting the film show her either as a beauty queen dripping with expensive gowns or as a weak person in need of being saved. Her character in the film, while well-dressed, is more of a feisty Mary Pickford type and we wanted to find images that showed this…like the defiant swordsman she appears as on the cover of the sheet music. The quality of the image on the sheet music cover was not good enough for us to use.
A thick folder of stills for the film turned up in the collection of the Museum of Modern Art and, lo and behold, one of the images was an original photo of that image. This still, and a few others, went into Marlene's back cover design for the Blu-ray case.
To hear "When Knighthood Was In Flower" and "The Marion Davies March", as well as watch a great Marion Davies film, restored and now available in its original splendor for the first time in 95 years (with a theatre organ score by me), buy the Blu-ray/DVD combo at Amazon.