"It was Blanchette Rockefeller's piano," I was told when I was introduced to the instrument in 2003. This was at the Gramercy Theatre on West 23rd Street, and when I arrived was greeted in the auditorium by Ethel Shein. And by the Steinway baby grand.
This was during the last round of renovations for the Museum of Modern Art. The museum was then closed and, instead of "going dark", the Gramercy Theater had been rented/leased in order to continue MoMA's film exhibitions.
Rockefeller's Steinway S had just been reconditioned inside and out by Steinway, Ms. Shein explained to me. As I reached for my clip-on piano light, my hands were stayed as a precaution to the new finish on the music rack. A black cloth was found, and only then was my piano light gingerly clamped on to its place on the rack.
I'd never played a piano whose action was as tender and responsive as this. In case you didn't already know, I am not a conservatory grad (I went to film school) and haven't played as many pianos as Ylang Ylang has. But playing this instrument was to me, as the expression goes, "like buttah". I found myself able to play things I'd not quite been able to before, and the flow between synapse and performance was smoother and shorter than I'd experienced on other instruments.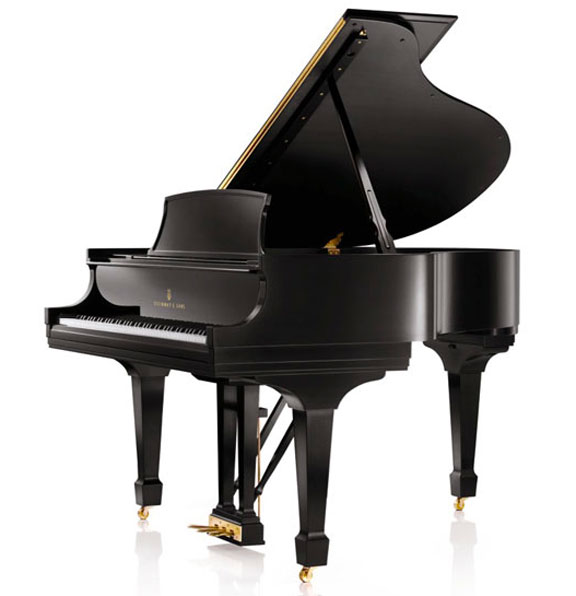 I knew the Rockefeller name, of course, as well as the Steinway one, but was unfamiliar with this Rockefeller. Regardless, I assumed this was part of how it was that the instrument made its way to MoMA and that there had been funding to have it heavily worked over by Steinway.
Per Wikipedia, Blanchette Rockefeller (1909-1992) was the wife of John D. Rockefeller III, graduated from Vassar with a BA in music, and was the President of MoMA 1972-1985, twice according to her obituary.
Ethel Shein had started at MoMA in 1965, and in 1996 was named its Director of Special Programming and Events. According to this NY Times article, she was also involved in planning the MoMA's Annual SummerGarden concerts, and after her passing in 2004 the Ethel P. Shein Fund for Music at MoMA has helped support the concerts.
The Steinway S is a 5' 1" baby grand, introduced to the market in 1935. Steinway's web page for the instrument says: "At 5′ 1″ (155 cm), this piano is the smallest of the Steinway grands. This design was introduced in the 1930s to invite the majesty of the Steinway sound into almost any space." This page from Chupps Pianos compares the model "S" with the "M", saying Steinway launched the "S" in 1935 as a scaled-down version of the 5' 7" model M.
Ironically, the instrument currently in place in the Titus 1 theater is a Steinway "M", but I'll share more about that instrument in another post.
Blanchette Rockefeller's Steinway S baby grand from 1952 (I just looked up the serial number) is the instrument that now resides in MoMA's Titus 2 theater. It was moved there from the Gramercy after the museum's previous round of renovations were completed in 2004. It's the instrument you'll hear for most of the silent film programs during the Iris Barry's History of Film series. (I'm using my virtual Wurlitzer for a handful of the films.)