Every Halloween season, silent film accompanists and church organists find themselves on the bench supporting silent film's usual suspects: Erik the Phantom, Quasimodo, Drs. Jekyll and Caligari, and Count Orlok. Most of these are more gothic or macabre than what one may consider bona fide "horror film", with the exception of this year's centenarian Nosferatu (1922). There are actually two other films that do fit the genre but which aren't as well known.
I'm doing my part to expand the mini-canon. One way to get a silent or classic film booked more often is to get that film booked more often. Programmers pay attention to what other programmers are doing, and if a particular film gets shown at a couple festivals or venues, it may garner some attention and will be shown elsewhere the following programming season or year.
It may. It may not, but it's worth a shot.
I've made a point of trying to get Paul Leni's The Cat and the Canary (1927) shown when I get hired to play for a silent during the last week of October. It's the classic tale of a bunch of people gathered at a spooky old mansion for the reading of the will of a recently-deceased millionaire. It takes place at night, during a storm. Mysterious clawed hands reach through a panel and snatch jewels from people's necks. Paintings mysteriously fall off the wall. Bodies disappear. There's an escaped lunatic on the loose. The film's production design set the tone and look for Universal horror films of the 1930s.
The problem, of course, is that the film lacks an iconic monster, something I've written about here. The film's title sounds like it's a Sylvester & Tweety cartoon.
This year, I'm trying out another silent film, one that has all the elements of The Cat and the Canary but whose title does make it sound like it's a horror film.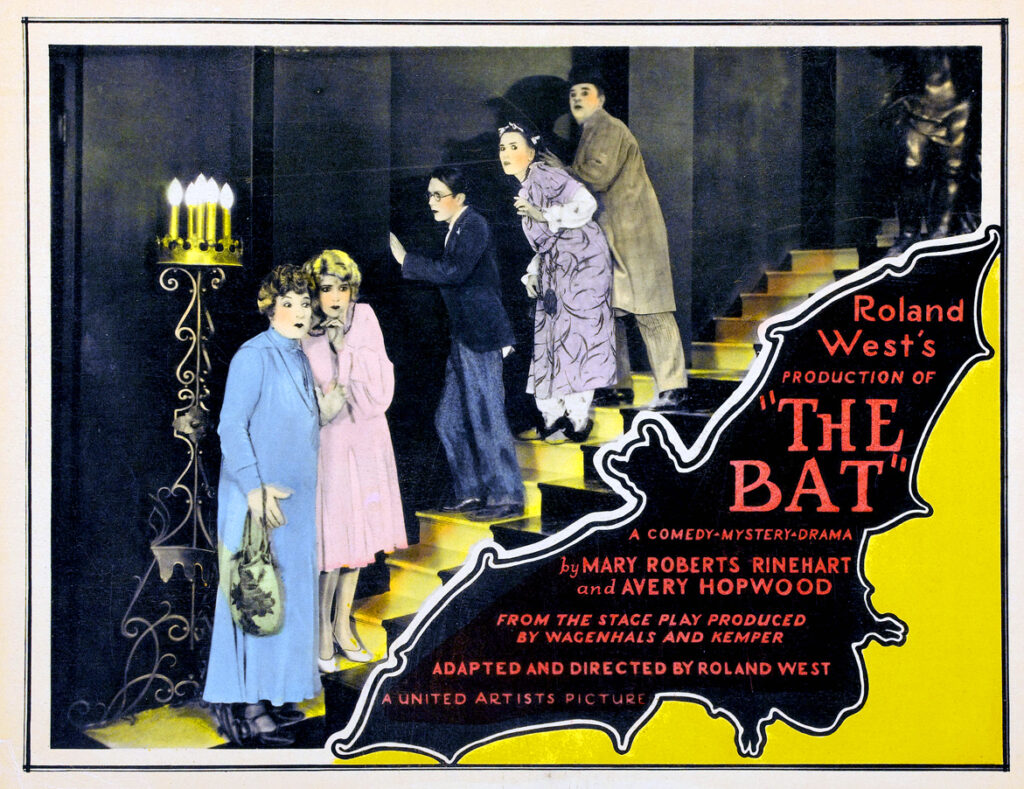 It's The Bat (1926), directed by Roland West. Horror fans may be familiar with West's 1930 remake The Bat Whispers. Both were adapted from the stage play by Mary Roberts Rinehart and Avery Hopwood. I've read in a number of online articles that the film was an inspiration for the Batman comic book character created by Bob Kane and Bill Finger.
The film's got a great ensemble cast: Jack Pickford, Jewel Carmen, Louise Fazenda, Arthur Housman, Tullio Carminati, George Beranger, Eddie Gribbon, Emily Fitzroy, and Sôjin Kamayama. William Cameron Menzies' production design could be considering a supporting player.
The Bat was preserved in 35mm from a nitrate print by the UCLA Film & Television Archive a couple decades ago. Up till then, The Bat had been a lost film.
A couple months ago, in trying to come up with a silent film that wasn't one of the Halloweeen warhorses, I remembered accompanying The Bat at MoMA a long time ago, and decided to program it for the monthly "Anything But Silent" series that I co-program with Dylan Skolnick at the Cinema Arts Centre.
If you're in driving or LIRR-ing distance of Huntington NY on Long Island, come see Roland West's The Bat (1926), in a 35mm print from UCLA Film & TV, with yours truly at the digital Wurlitzer. The show is Wednesday, October 26 at 7:30pm. Tickets and show info are here.
And, whether you can make the show or not, I hope you'll take my cue and convince your 35mm-friendly art-house cinema to book this picture for next year's Halloween spooky silent.
---
Here's a gallery of lobby cards from The Bat that I sourced (and tidied up) from a listing I found on Heritage Auctions.