From Tom Mix's entry into motion pictures in 1910 for the Selig Company and his quick rise to starring roles, then into feature-length in 1918 for the rest of the silent era, he was never off the silver screen. Movie audiences and fans could always count on the fact that there'd be a new Tom Mix film coming soon.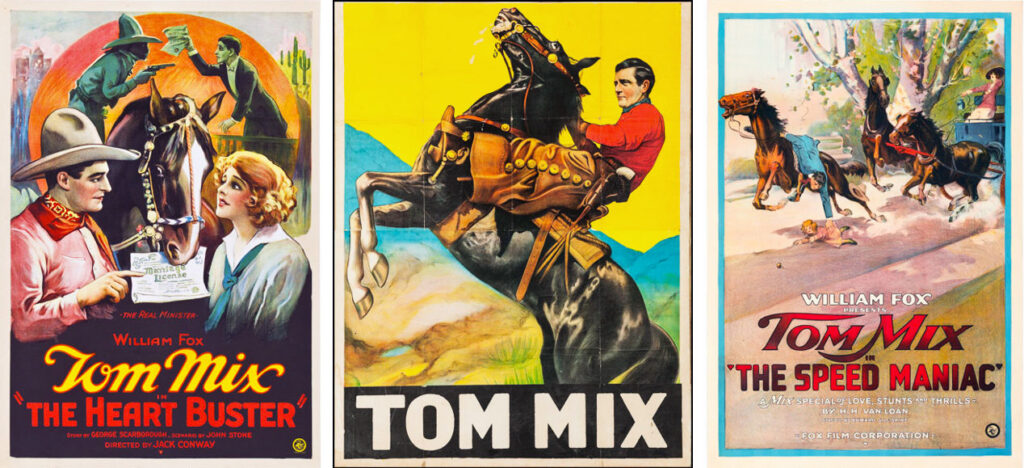 Mention Tom Mix to anyone today, and there's an instant reaction of recognition, even from folks who aren't avid TCM-watchers or attendees of cine-conventions. They know the name. Maybe it's because of the radio show he lent his name to that ran from 1933-1943. His name and legend as a movie cowboy are known to many.
Even if they've never seen one of his films. Which is pretty likely to be the case.
From 1918-1929, Tom Mix (born Thomas Hezekiah Mix) starred in and released a whopping 6-to-9 feature-length western action-adventure films a year. A total of 83 films. His popularity in the mid-'teens was strong enough for an independent producer to cobble together a handful of Mix's earlier Selig one-reelers and create new features out of them.
During the first year of the pandemic when I was looking for another silent film or films to release on my Undercrank Productions label, I discovered that the Library of Congress had a 35mm preservation negative of Sky High (1922). This title had been added to the National Film Registry list in 1998. I'd seen the film, years ago, as well as The Great K&A Train Robbery, and the recently restored (by MoMA) Outlaws of Red River.
The number of silent westerns released by the better-known home-video outfits (Kino, Image, Criterion, Flicker Alley) can be counted on one hand. None of these are Tom Mix silents. Boutique/budget label Grapevine Video released five Mix silents many years ago, as well as two of the compilation features. And so, my decision was made to add a Tom Mix feature to the catalog of silent films that ought to be better-known that I've released over the last 9 years.
I was unfamiliar with Tom Mix's overall career and, in particular, his filmography. And so, I dug in. What I found, as they say in click-bait ads, will astound you.
Below is a list of Tom Mix starring features made from 1918 through 1929, and a note as to whether the film survives or not. I compiled this using IMDb, the American Silent Film Survival Database, and through a colleague consulting the FIAF (International Federation of Film Archives) silent film database. Corrections and revisions are welcome; if you work at an archive (perhaps the Národní filmový archiv in Prague) and want to look into the completeness of any of the Tom Mix films in your collections, I'd be happy to update this page.
Undercrank Productions is currently restoring both Sky High (1922) and The Big Diamond Robbery (1929) for home-video. The films will be seen in new 2K digital restorations from 35mm elements preserved by the Library of Congress and Lobster Films . These films will be released on Blu-ray and DVD at the end of 2022, or in early 2023.
Tom Mix Filmography
1918
Cupid's Roundup – Jan 13, 1918 – 5r – LOST
Six-Shooter Andy – Feb 24, 1918 – 5r – LOST
Western Blood – Apr 14, 1918 – 5r – LOST
Ace High – Jun 9, 1918 – 5r – survives (completeness unconfirmed)
Mr. Logan, U.S.A. – Sept 8, 1918 – 5r – LOST
Fame and Fortune – Oct 20, 1918 – 5r – LOST
1919
Treat 'Em Rough – Jan 5, 1919 – 5r – only 2 reels extant
Hell-Roarin' Reform – Feb 16, 1919 – 5r – LOST
Fighting for Gold – Mar 30, 1919 – 5r – survives incomplete
The Coming of the Law – May 11, 1919 – 5r – only 1 reel extant
The Wilderness Trail – July 6, 1919 – 5r – LOST
Rough-Riding Romance – Aug 24, 1919 – 5r – fragments extant
The Speed Maniac – Oct 19, 1919 – 5r – LOST
The Feud – Dec 7, 1919 – 5r – LOST
1920
The Cyclone – Jan 25, 1920 – 5r – LOST
The Daredevil – Mar 7, 1920 – 5r – LOST
Desert Love – Apr 20, 1920 – 5r – LOST
The Terror – May 29, 1920 – 5r – LOST
3 Gold Coins – Jul 4, 1920 – 5r – LOST
The Untamed – Aug 29, 1920 – 5r – survives (completeness unconfirmed)
The Texan – Oct 31, `1920 – 5r – survives (completeness unconfirmed)
Prairie Trails – Dec 26, 1920 – LOST
1921
The Road Demon – Feb 20, 1921 – 5r – LOST
Hands Off! – Apr 3, 1921 – 5r – LOST
A Ridin' Romeo – May 22, 1921 – 5r – LOST
The Big Town Round-up – Jun 26, 1921 – 5r – survives (completeness unconfirmed)
After Your Own Heart – Aug 7, 1921 – 5r – LOST
The Night Horsemen – Sep 18, 1921 – 5r – survives (completeness unconfirmed)
The Rough Diamond – Oct 30, 1921 – 5r – LOST
Trailin' – Dec 11, 1921 – 5r – survives
1922
Sky High – Jan 15, 1922 – 5r – survives
Chasing the Moon – Feb 26, 1922 – 5r – LOST
Up and Going – 5r – Apr 2, 1922 – LOST
The Fighting Streak – 5r – May 15, 1922 – survives (completeness unconfirmed)
For Big Stakes – 5r – Jun 18, 1922 – survives (completeness unconfirmed)
Just Tony – 5r – Aug 20, 1922 – survives
Do and Dare – 5r – Oct 1, 1922 – LOST
Arabia – 5r – Nov 5, 1922 – LOST
Catch My Smoke – 5r – Dec 3, 1922 – LOST
1923
Romance Land – 5r – Feb 11, 1923 – survives (completeness unconfirmed)
Three Jumps Ahead – 5r – Mar 25, 1923 – LOST
Stepping Fast – 5r – May 13, 1923 – LOST
Soft Boiled – 8r – Aug 26, 1923 – survives (completeness unconfirmed)
The Lone Star Ranger – 6r – Sept 9, 1923 – LOST
Mile-a-Minute Romeo – 6r – Oct 28, 1923 – LOST
North of Hudson Bay – 5r – Nov 18, 1923 – survives
Eyes of the Forest – 5r – survives incomplete
1924
Ladies to Board – 6r – Feb 3, 1924 – LOST
The Trouble Shooter – 6r – May 4, 1924 – survives
The Heart Buster – 5r – Jul 6, 1924 – LOST
The Last of the Duanes – 7r – Aug 24, 1924 – LOST
Oh, You Tony! – 7r – Sept 21, 1924 – survives
Teeth – 7r – Nov 2, 1924 – survives
The Deadwood Coach – 7r – Dec 7, 1924 – LOST
1925
Dick Turpin – 7r – Feb 1, 1925 – survives
Riders of the Purple Sage – 6r – Mar 15, 1925 – survives
The Rainbow Trail – 6r – May 24, 1925 – survives
The Lucky Horseshoe – 5r – Aug 29, 1925 – survives
The Everlasting Whisper – 6r – Oct 11, 1925 – LOST
The Best Bad Man – 5r – Dec 12, 1925 – survives
1926
The Yankee Señor – 5r – Jan 10, 1926 – survives (completeness unconfirmed)
My Own Pal – 6r – Feb 28, 1926 – LOST
Tony Runs Wild – 6r – Apr 18, 1926 – survives (completeness unconfirmed)
Hard Boiled – 6r – Jun 6, 1926 – survives (completeness unconfirmed)
No Man's Gold – 6r – Aug 26, 1926 – survives (completeness unconfirmed)
The Great K&A Train Robbery – 5r – Oct 17, 1926 – survives
The Canyon of Light – 6r – Dec 5, 1926 – LOST
1927
The Last Trail – 6r – Jan 23, 1927 – survives (completeness unconfirmed)
The Broncho Twister – Mar 13, 1927 – LOST
Outlaws of Red River – May 8, 1927 – survives
The Circus Ace – 5r – Jun 26, 1927 – survives (completeness unconfirmed)
Tumbling River – 5r – Aug 21, 1927 – LOST
Silver Valley – 5r – Oct 2, 1927 – LOST
The Arizona Wildcat – 5r – Nov 20, 1927 – LOST
1928
Daredevil's Reward – 6r – Jan 15, 1928 – LOST
Horseman of the Plains – 5r – Mar 11, 1928 – survives (completeness unconfirmed)
Hello Cheyenne! – 6r – May 13, 1928 – LOST
Painted Post – 5r – Jul 1, 1928 – survives (completeness unconfirmed)
King Cowboy – 7r – Aug 9, 1928 – LOST
Son of the Golden West – 6r – Oct 1, 1928 – survives incomplete
1929
Outlawed – 5r – survives (completeness unconfirmed)
The Drifter – 6r – Mar 19, 1929 – survives (completeness unconfirmed)
The Big Diamond Robbery – 7r – May 29, 1929 – survives