We've all heard audio feedback, that high-pitched loud noise heard over a sound system. Even if you don't know it's called feedback, you know that annoying sound, and that sound people avoid it. The same electronic phenomenon exists with video, and Ernie Kovacs used it — on purpose.
I first learned about video feedback in the closed-circuit B&W TV studio that my high school had. If you pointed a TV camera at a monitor showing the image the TV camera was picking up, you'd get a slightly warped version of an infinity mirror. If you zoom in, the image got more distorted; if you were able to do this by holding the camera upside-down and pointing it at its monitor, you got an even more way-out result. This seems to work best with B&W television equipment.
It was something that was a cool, mistake kind of effect, and the only place I'd see it used on purpose was in video art that would get shown on Public TV late at night on a Sunday.
Imagine my surprise the first time I watched Kovacs on Music (1958) during the Kovacs retrospective held in 1986 at the Museum of Broadcasting, now called the Paley Center for Media. One of the segments in this hour-long special is of Edie Adams performing the Bachianas Brasileiras No. 5 by Villa-Lobos, a piece composed for solo voice and eight cellos.
Edie is only seen in a medium close-up, and she and the cellists are set against a dark background. And, for a good deal of the piece, video feedback is used with the shot of Edie and the two-shot of her and the lead cellist. Sometimes it's matted or superimposed over the wide shot of the ensemble.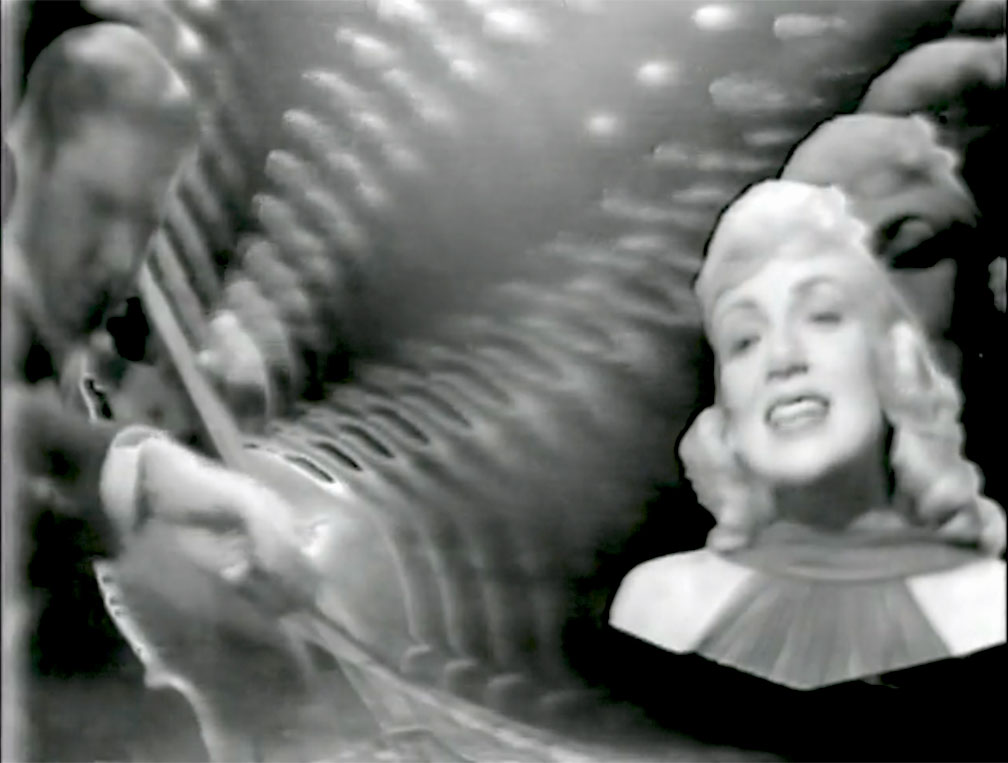 Did I mention this was in 1958? On network primetime on NBC? There is a no gag, no punchline, and the piece takes up about four minutes of airtime. This was the first year Kovacs was able to pre-record one of his shows with videotape. Edie told me the reason Ernie had her shot this way was because at the time she was eight months pregnant with daughter Mia.
While it's not known why Ernie chose to use the video feedback, I'd imagine he was looking for a way to make the piece visually interesting while limiting how he could show Edie. The effect also manifests the slightly ethereal nature of the Villa-Lobos piece.
The Bachianas Brasileiras No. 5 segment will be part of the highlights reel shown tonight at the Anthology Film Archive's Ernie Kovacs Centennial program.
——
Kovacs on Music (May 1958, NBC) is on The Ernie Kovacs Collection: Centennial Edition and is also streamable on the Shout Factory website.
You can try getting this "infinity effect" yourself, if you like, by putting your smartphone in selfie mode and then pointing it at a mirror and moving it closer.