"I went to high school with Ernie Kovacs!" is one thing you never expect someone to say to you at an event. But that is precisely what a woman who attended the Ernie Kovacs Day event last month said to me. She was 100, and came to the program with her high school yearbook.
I was the emcee for the program, which had been put together by Steve Gorelick, the Executive Director of the NJ Motion Picture and Television Commission, and Josh Mills, who runs the Kovacs and Adams estates, and is Edie Adams' son. The mayor of Trenton proclaimed May 22, 2019 "Ernie Kovacs Day", and NJ Secretary of State Tahesha Way gave an excellent opening statement, talking about Kovacs' career and beginnings in Trenton as well as the fact that he was a son of Hungarian immigrants.
Steve Gorelick also spoke about Ernie's place in television history and his youth in Trenton NJ. I told the audience a little about how Kovacs would continue to refer to Trenton or the surrounding area in his sketches in later years. The name Arthur B. Cosnowski turns up in Kovacs material repeatedly, and this name was borrowed from Bernie Cosnowski, the polka king of Trenton who had a radio show on WTTM when Ernie had his DJ program there.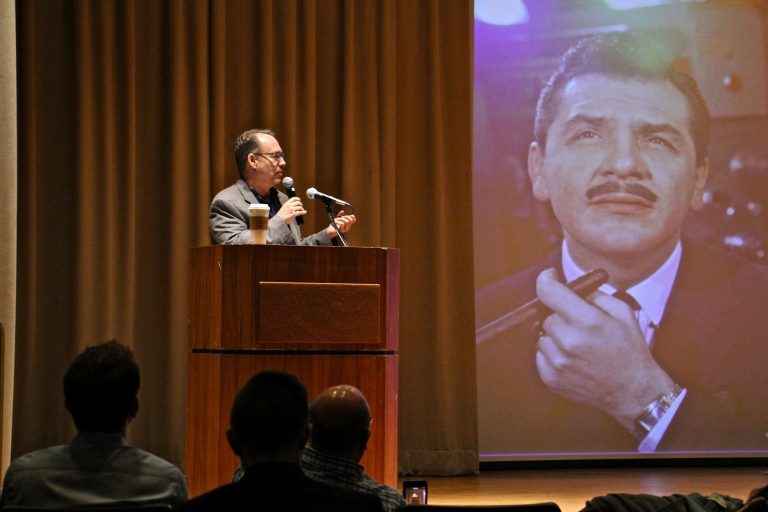 Joel Hodgson, best known for Mystery Science Theater 3000", was the special guest speaker and spoke to the audience about Kovacs' use of the television medium. We then ran a compilation of Kovacs TV material that I'd assembled, which opened with 7 minutes from a 1980 documentary called Cards and Cigars: the Trenton in Ernie Kovacs made by Calvin Iszard for the New Jersey PBS affiliate.
This was followed by a panel discussion on Kovacs with Josh Mills, Joel Hodgson and Jeff Edelstein — journalist for The Trentonian — which I moderated. We were all interviewed individually for a local web news outlet called TAPintoTV, and their video piece on the event is below.